Isaiah 65:17-25
In Easter, we celebrate the Resurrection. In the first century, in the time of Jesus, the prevailing philosophy of Hellenism taught that the body was the prison of the soul: death frees the soul from the body. For all these educated people, resurrection would sound like putting the free soul back into the prison of the body.
By contrast, the poor were more receptive to the idea of the hope of resurrection. For them, resurrection taught that this life is hard, but there is hope for another day. Easter tells us that life should not and will not end in decay and emptiness.
The prophet of Isaiah 65 challenges his generation to stretch their imagination and do not give up in the face of hardships. Historians place the ministry of this prophet in the period of restoration that followed the end of the Babylonian exile. The people are back in the land of Canaan. It was exciting to return home; however, they did not have enough resources. Opposition was all around: they worked hard but got nowhere. All seemed lost.
For a time such as this, God sent the prophet of Isaiah, who said: "Look, don't give up, for God is doing it again. God is creating new heavens and the earth. Come and join." In a truer translation from Hebrew, it is much more animated."God says: Look, watch me creating new heavens and the earth, and the audience could imagine the new heavens coming down and the earth unfurling before their eyes."
Imagine a totally new world: there will be no more weeping, and no more cry of distress. No more shall there be an old person who does not live out a lifetime. "One who dies at a hundred years will be considered a youth." In the new era, "no one will labor in vain." In that new world, The wolf and the lamb shall feed together, the lion shall eat straw like the ox! . . . They shall not hurt or destroy on my holy mountain, says the LORD. There will be no more enmity in the new world.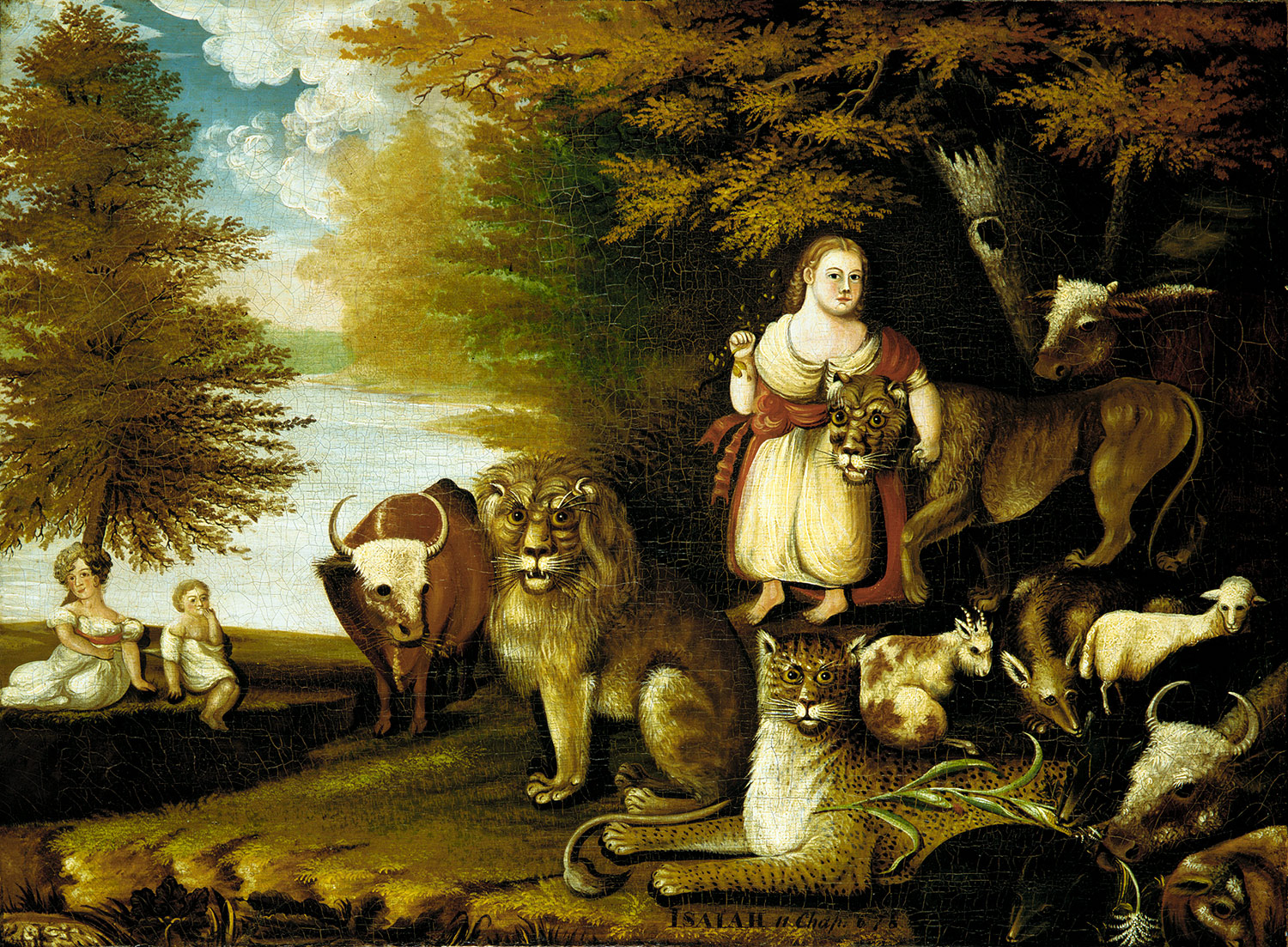 The American Quaker painter Edward Hicks created a series of paintings on this theme, commonly called The Peaceable Kingdom. In one painting, the lions and the oxen and babies play together, and in the background, the settlers and the Native Americans are conversing in peace.
How will this new world of no more tears be made possible at all? The answer is hidden in this little phrase: God says it will be on God's Holy Mountain. When the Hebrew people heard the word "holy," they thought of a place God would set apart for this special purpose—for hope and comfort. In Old English, "holy" originally meant "happiness."
God invites us to His holy mountain where there will be no more despair. No more sorrow. There we will find the age-old happiness that God ordained for us for eternity.